MARKET MINUTE: Nov. 8 -14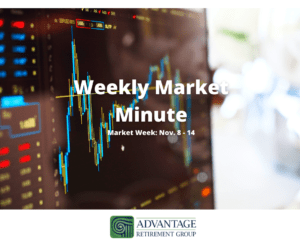 THE WEEK IN REVIEW: Nov. 8 – 14
A vaccine has arrived!
The market continued to rock last week, as Monday opened with Pfizer's announcement that it has developed a vaccine that is 90% effective against the coronavirus. The vaccine news initially pushed the Dow and S&P 500 to new records, at least intraday, until profit-takers moved in to trim the gains by the end of the day.
A vaccine could be a game-changer. All of 2020 can be put into the rearview mirror if we have a viable, widely available treatment. Businesses can reopen, people can get back to work, we can travel widely again and kids can go back to school. In short, we can return to normal. Wasn't that always the desire? The hope is that we will get the vaccine distributed quickly and continue to develop additional therapies.
There are some big potential "losers" if the vaccine proves effective at preventing infections. Coronavirus testing is a big business, and vaccinated people simply will not require the same level of constant testing. The other losers will be those who benefited from lockdowns and restrictions, including companies and various authorities who were able to have a bigger dominance over our lives than they normally would have.
Markets shoot upward, but there are rumblings of new restrictions
Markets were well on their way on the fantastic vaccine news early last week, before rising positive coronavirus cases and worries over additional lockdowns and restrictions caught up with the euphoria. We had a bit of a slowdown on Thursday before markets shook off the concerns; they refocused on the vaccine and strong earnings to get back on a winning track to close out the week. Overall, the market was up over 4% last week in addition to the 7% increase the week before.
These movements are swift as markets react to new significant news. Just several weeks ago, we had to address the sell-off before the election due to rising coronavirus cases and fear of renewed restrictions and shutdowns coming to the foreground. In fact, the volatility index (VIX) climbed to just over 40 on Oct. 28 before dropping into the low 20s this past Friday, only two weeks later.
A lot is riding on how soon we can get the vaccine rolled out and whether other vaccines may be available and easier to distribute than the Pfizer vaccine, which requires storage at extremely cold temperatures and two doses. Potential good news on that front: On Monday, Moderna revealed its vaccine is 94.5% effective, and its storage requirements aren't as difficult. We cannot return to ineffective restrictions if we want our economy to not only survive but to thrive.
Everyone digs in further
With Senate run-off elections in Georgia looming, the political universe has shifted to the Peach State. Money and resources will flood the South because the Democrats could flip the Senate if they win both seats. The likelihood of that happening is slim at this point, but in 2020, anything can happen.
The Trump campaign continues to contest the election results in multiple states. It's hard to get an accurate read on where these challenges stand; the mainstream media has largely concluded that there is no controversy worth reporting and that the election is over. That may very well be the case, but there is a possibility that a court or judge may throw the narrative that this presidential election is not a done deal into the mix. If that happens, the market will not react well, because right now they're still banking on a divided government with Joe Biden as president.
With a divided government, questions about a second round of stimulus continue. We're seeing an increase in coronavirus cases and the increased potential of additional restrictions or shutdowns. The possibility of new stimulus has become more remote, with House Democrats retreating to their original request of $3.4 trillion. (Before the election, the Democrats were at $2.2 trillion and "only" $400 billion away from the Republican offer of $1.8 trillion.) Whatever happens, any new stimulus would be welcomed, but the longer it takes, the less helpful it will be. With the likelihood of widespread vaccine availability, the need to restrict Americans' activity will wane. As the economy fully reopens, stimulus will become less relevant and politicians will have no impetus to work on an additional deal.
Coming this week
·     Election lawsuits and challenges will continue to dominate headlines this week.
·     On the economic data front, it will be a light week. We'll see retail sales, business inventories and industrial production on Tuesday, followed by housing data (market index, starts and permits, and existing home sales) midweek. Leading indicators will round out the data on Thursday. The market isn't focused on economic data given the election drama and the increased fears of more shutdowns balanced against the possibility of a vaccine being made widely available.
·     Earnings are almost done, with 457 companies of the S&P 500 reporting. So far, 78% have beaten revenue estimates, and 84% beat earnings estimates. The coronavirus has swamped a great earnings season.
Have a great week!
Tom Siomades, CFA®
Chief Investment Officer
AE Wealth Management