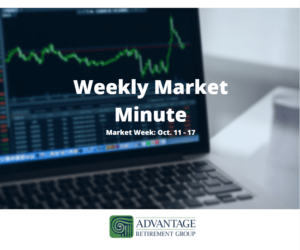 THE WEEK IN REVIEW: Oct. 11 – 17
Still, no stimulus, vaccine problems, and unemployment ticks back up
Last week started with an additional stimulus on the table. Sadly, hopes faded as the week wore on, with neither side wanting to bridge the $400 billion gap between competing plans. With the election so close at hand, the odds of agreeing on another stimulus package are remote; neither side wants to give the other a win, so we have a standoff.
Markets were up strong as we began the week, boosted by hopes that Congress was making progress toward a new spending package. By mid-week, however, markets drifted downward as hopes for an agreement dimmed and we got the news of another vaccine trial being halted. The disappointing vaccine news from Johnson & Johnson combined with the depressing news about the lack of stimulus progress, driving markets lower through the middle of the week before they turned around on Friday.
The end-of-week uptick was thanks to strong retail sales, consumer resilience, and a shred of uplifting news on Friday, as Pfizer announced its timeline for submitting its coronavirus vaccine for approval. (It's shooting for mid-November.) Unemployment claims remain stubbornly high due to the lack of stimulus, continued coronavirus fears, and delayed reopenings. Last week's number edged higher, the fallout from airlines and Disney announcing major layoffs a few weeks back.
Earnings have begun rolling in for Q3
With little guidance and very low expectations after a dismal second quarter, earnings season kicked off this week. Estimates this quarter were even more depressing, with some calling for a decrease of as much as 20.5%. This is expected to be the worst year-over-year decline since 2009 when we saw a 26.9% drop. As bad as a -20.5% decline in earnings may sound, it's still better than the Q2 estimate we got back in June of -25.3%!
These forecasts never seem to live up to the dire predictions — and so far, Q3 is no exception. Even though it's fairly early in the season, so far 22 of the S&P 500 companies have reported earnings, with 20 reporting earnings surprises and 19 reporting revenue surprises. For example, JPMorgan Chase and Goldman Sachs reported really strong earnings for Q3, which bodes well for all earnings going forward.
From a valuation perspective, the forward one-year price-to-earnings ratio is 21.9, higher than the five-year (17.2) and 10-year (15.5) historical readings. It would appear that we are on the overvalued side; still, given the state of interest rates, the flood of liquidity, and the very different composition of the markets than 10 years ago, I don't believe we are overvalued in the S&P 500 or need to be overly concerned. I'm not a fan of the phrase "new normal," but the environment is different and comparisons to 10 years ago are not always accurate.
Elections are two weeks away, and markets have been pretty calm (so far)
I've been promoting caution and concern about volatility going into this very contentious election, but it has not materialized so far. However, I wouldn't throw caution to the wind right now. The recent run-up in stocks has been fueled by continued hope of a stimulus package — which has yet to come to fruition — and by big tech, which has been a winner during the pandemic.
Last week several tech highfliers, notably Facebook and Twitter, came under fire for suppressing New York Post stories criticizing the Bidens' business dealings. This led to declines in both companies' prices, but it was difficult to determine if those two companies were the only reason for an overall decline in the NASDAQ. I tend to think it was more the lack of stimulus progress. Either way, we recovered some lost ground to close out the week.
The much-anticipated Supreme Court confirmation hearings of Judge Amy Coney Barrett were mostly uneventful and did not contribute to market volatility last week.
Finally, no other news emerged from the campaign trail that had any impact on the markets, other than the tech controversy I mentioned earlier. Once again, don't be lulled into a false sense of security as we near the election. A lot can still happen that could impact the markets.
Coming this week
Earnings results will accelerate this week, with 420 companies scheduled to report Q3 earnings versus 119 last week.
Economic data will not be overwhelming this week, but some data will be on tap just the same. Look for Beige Book numbers on Wednesday and KC Fed Manufacturing, Leading Indicators, and Fed Balance Sheet on Thursday.
Weekly unemployment claims climbed to nearly 900,000 last week, mostly on the back of airline and Disney layoffs. If they continue to increase from here, it will be a troubling sign. If this was a one-time hiccup, we should soon see improvement as claims resume their downward drift.
We'll get lots of housing data this week: Housing Index (Monday), Housing Starts (Tuesday), Mortgage Applications (Wednesday), and Existing Home Sales (Thursday). The numbers will provide a good look at the health of the housing industry.
Have a great week!
Tom Siomades, CFA®
Chief Investment Officer
AE Wealth Management