MARKET MINUTE:Oct. 4 – 10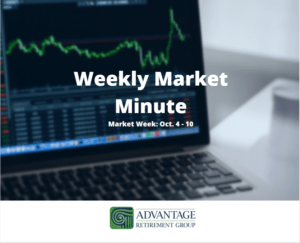 THE WEEK IN REVIEW: Oct. 4 – 10
No stimulus, no problem … at least for this week.
After President Donald Trump's positive coronavirus test and his visit to Walter Reed Hospital for the weekend, he was released and recovering at the White House. The news wasn't a concern for markets; they continued focusing on the next stimulus package, which has been their driving factor over the past few weeks. The Dow was up over 700 points (3.3%) and the S&P was up even more at over 100 points (3.8%). The NASDAQ crowned them all, rising over 400 points for a 4.6% gain on the week.
Last week, we were treated to a gap of $600 billion in proposed stimulus plans from the House Democrats and the White House, when President Trump abruptly announced that talks were off and would not resume until after the election. Just as abruptly, he proposed that direct payments to people, small-business protection, and aid to airlines and education be negotiated separately. House Speaker Nancy Pelosi accused President Trump of mental instability due to coronavirus treatments. She also rejected the one-off series of deals and said she wouldn't entertain them unless they're part of a comprehensive deal.
For the markets, last week was all about posturing before the election and perception that one side or the other will be blamed for the lack of aid. We are really close to a deal, with the Republicans moving up to (and President Trump approving) a $1.8 trillion offer. Still, the devil will always be in the details and whether Republican senators or House Democrats can find common ground. In my view, there will be no additional stimulus that will get to people before the election, and this will continue to add to volatility in the weeks ahead.
We will be discussing packing after we finish unpacking!
There has been much made about the upcoming Supreme Court nomination hearing to replace Justice Ruth Bader Ginsburg. Amy Coney Barrett is expected to have a difficult confirmation process. Joe Biden and his running mate, Kamala Harris, have not provided any alternative candidates who they would put forward and have not answered whether they would consider adding additional justices to the Supreme Court (which some call "court-packing").
Biden said he would announce his position on court-packing after he gets elected. Why is this important to markets? Because with a potentially politicized Supreme Court, the court risks becoming an appointed-for-life super-legislative body, which will not be independent but beholden to whatever party placed justices on the court. This will allow the ruling party to ram through whatever policies they favor and ignore the rights of those who disagree with said policies. Additionally, dissenters will not have redress via an independent court. Anti-business policies supported by politicians will sail through the legislative process and be rubber-stamped by a court in political agreement with those in charge. Less dissent and less free exchange of ideas would not be good for the markets. Not to get all Alexander Hamilton on you, but that wouldn't be good for our democracy, either.
Coming this week
Today is Columbus Day. Markets are open but banks are closed.
Economic data on tap this week include CPI (Tuesday) and PPI (Wednesday), which will give a reading on inflationary pressures.
Mortgage applications on Wednesday will provide insight into the red-hot real estate market.
Weekly unemployment claims need to come in lower than 800,000 to be seen as an improvement. It's ambitious given the recent layoff announcements resulting from a lack of additional stimulus.
Retail sales and consumer confidence on Friday will provide a look at the current posture of the consumer.
Have a great week!
Tom Siomades, CFA®
Chief Investment Officer
AE Wealth Management