MARKET MINUTE: Sept. 27 – Oct. 3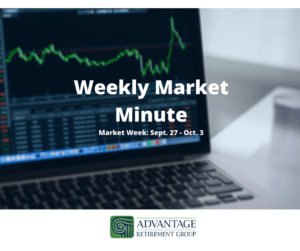 THE WEEK IN REVIEW: Sept. 27 – Oct. 3
Two strong quarters in a row and no one knows what the next few months will bring — but the fourth quarter is ours!
Despite a disappointing September, the third quarter continued building on strong results from the second quarter. The economy continued to recover; the pace of recovery has slowed, as might be expected, but at the same time continues to be robust.
Markets are forward-looking and, based on the stock market's performance right now, 2021 is looking like it will be very strong. I have discussed multiple times how wrong downbeat proposals for the markets were last spring. Not only have the past two quarters recouped coronavirus losses, but we saw records in the Nasdaq and the S&P 500, with each index setting multiple records as we closed out August. That was astounding progress given all the other headwinds our economy and markets were expected to encounter.
The Dow failed to reach a new record after briefly topping 29,000, but while the Dow is highly followed, it's not always an accurate depiction of the overall market. Companies like Boeing (for non-coronavirus reasons) have held the Dow back for well over a year. Chevron was challenged by the wacky oil markets, making the Dow 30 a little wonky, but the index still crested over the psychologically important threshold of 29,000 in early September. We've given back some of those gains in September for various reasons, including folks taking some gains, the continued bickering in Congress over additional stimulus to keep the economy on its path to full recovery, and the increase in volatility as the election nears.
I remain cautious, but if we can get an additional stimulus from Congress, I am optimistic that the fourth quarter will continue to drive upward. As remarkable as it may sound, we may even end the year with decent gains.
Jobs keep growing, and the economic rebound is still intact
On Friday, the September jobs report missed expectations for new job creation, with 661,000 jobs added versus the expected 894,000. However, the unemployment rate came in at 7.9%, beating the estimated 8.2%.
In normal times, a 233,000 difference would have been horrendous; in post-coronavirus terms, it doesn't seem to be such a big deal, and it seems better to focus on the decline in the unemployment rate. Unemployment dropped from 8.4% to 7.9%, which means although over 800,000 people are lining up each week for new unemployment benefits, on a net basis we still created over 600,000 new jobs! It should have been expected that job gains would slow, and we would have been deluding ourselves if we thought we would generate 5 million new jobs every month. We shut down overnight, and jobs were filled rather quickly as we began to reopen. Based on conditions and differing policies, as we moved forward there began to be less low-hanging fruit to pick with respect to jobs, but we are still adding to the numbers, which can only be seen as a good thing. Now if we could only get Congress to agree on something.
More Congress maneuvering and a spending extension
Speaking of Congress, the elusive deal-or-no-deal saga on Capitol Hill continues. Senate Republicans moved up to $1.6 trillion with their offer, while House Democrats passed a $2.2 trillion package. Hey, that's only $600 billion apart! If they can throw in three years of oil changes and free floor mats, can we have a deal?
Seriously, though, with the CARES Act funding running out and the employment situation as we discussed, an economic slowing may be just the ticket to spur both sides to move toward some agreement on relief. Last week's announcements from Disney, the airlines, and other firms totaled over 100,000 in layoffs and furloughs, which won't bode well in the months ahead without Congress' help. With the Federal Reserve on the sidelines, for now, the onus is squarely on the shoulders of Congress.
The good news? Last week, Congress funded the government into December. At least we averted another potential crisis on that front.
Debate or debacle? Much-anticipated political collision delivers nearly two hours of a bruising free-for-all but not any real answers — then Trump tests positive for the coronavirus!
I was going to spend some time on the debate, which was long on calumnies (yes, click here for the definition) and short on policy. However, a bigger story broke on Friday, as revelations that President Donald Trump and the first lady, Melania Trump, tested positive for COVID-19. Announcements that presidential aide Hope Hicks had tested positive on Thursday led to testing for the administration's inner circle. Let's hope for a speedy recovery for all — but how many stranger can this year get?
Coming this week
·     After a really busy data week, this week will provide a brief respite from economic data. The only two items that may hold some sway will be the release of the Federal Open Market Committee (FOMC) minutes on Wednesday (which should only confirm that rates will remain low until 2023) and jobless claims, which have clung in the 800,000 range over the past few weeks. The tug of war between overall positive monthly job growth will be tested in November, as the airlines and Disney (just to name a few players) have announced layoffs or furloughs resulting from stimulus inaction.
·     It seems like we've been talking about additional stimulus forever, yet nothing has been done. The White House and Congress have narrowed their differences; that figure stands at $600 billion, and the only thing that's good about that is the gap between proposals was over $2 trillion when this process started. A deal next week would spark the markets, but I'm not confident that we'll see one before the election.
·     The vice presidential debates are scheduled to air on Wednesday, Oct. 7, and are slated to be held in Salt Lake City, Utah. Let's hope for a little more substance this time around.
Have a great week!
Tom Siomades, CFA®
Chief Investment Officer
AE Wealth Management